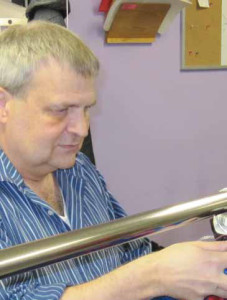 Sorting and hanging clothes in a retail store might seem a challenge for someone who's blind, but not to Charles Seidel. "Charlie," as friends and coworkers call him, has been doing that at the Willard and Norwalk Goodwill stores for some time, and blindness has not hindered him a bit. "He's a very good worker," Willard assistant store manager Ruth Moore, said. "Having him here has been a great experience, even a teaching experience for all of us. He has a good attitude and keeps us all laughing," she said.
Robbed of his eyesight by retinitis pigmentosa, Seidel has been with Goodwill Industries since May 2005. Seidel said he was a "little apprehensive" when approached about working at the Willard store. "I've hung clothes after doing the laundry at home, but never in a store," he said. Seidel can tell by touch if a zipper is defective or if a garment is torn."It's amazing what he can do," Moore said. "We didn't know what to expect when Charlie came here but he's proved time and again he can handle the job."
Seidel encourages others with disabilities not to "give up or feel sorry for themselves." "Don't let your disability get you down. There's a job out there for
you somewhere. You just have to take a chance and keep trying if you can't find one," he said.